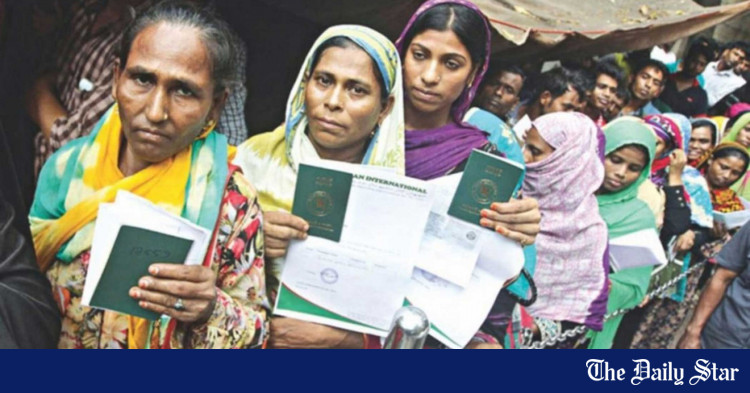 88% of migrant women do not obtain any work contract
Parul Begum (name changed), a single mother of two, thought she had taken a break when she received an offer to work as a domestic helper in Qatar for a monthly salary of Tk 40,000.
In May 2017, she left for Qatar, without a work contract and just a verbal promise from her recruiter and employer.
But a rude awakening awaited the 42-year-old migrant from Munshiganj in Qatar: her employer barely gave her food and ordered her to work in another house as well.
This forced her to resign within a month and return home at her own expense – and without her salary for the month.
Parul is not alone; many impressionable migrant workers like her in Bangladesh have experienced a similar nightmare, according to a report titled "Access to Justice for Bangladeshi Migrant Workers: Opportunities and Challenges" by the Ovibashi Karmi Unnayan (Okup) Program.
Between 1991 and May this year, about 10.5 lakh of female workers migrated to different countries, according to the Bureau of Manpower, Employment and Training.
The grassroots organization of migrant workers last year conducted a field survey of 262 migrant women for the report.
The majority of survey respondents migrated between 2015 and 2019 and returned home between 2018 and 2019.
About 88 percent of female migrant workers have not received a written employment contract. They were informed about the employer, job responsibilities, salaries and benefits during informal discussions.
Nearly 45% of female returnees said they had not received the same amount of salary and benefits that agents or sub-agents promised them, according to the report.
Only a handful of women interviewed knew what an employment contract was.
Among those who had a written employment contract before the migration, around 47% received the document a few hours before their flight.
Without a written employment contract, migrant workers lose their bargaining power and self-protection, said Rahnuma Salam Khan, a government official who worked as a national program officer at the ILO's migration office in Bangladesh.
"It's like a lifeline," she said, adding that if the contract is in someone else's possession, the migrant worker may face "forced labor."
Also, if any legal problem arises, it will be difficult for the migrant to move without the document, she said, while urging migrant workers to acquire sufficient knowledge of the issues related to their migration.
Recruitment agencies and their representatives such as sub-agents or intermediaries are supposed to ensure that migrant workers have a written employment contract, said Shakirul Islam, president of Okup and also the study's lead researcher.
"But they don't. Migrants mostly remain unaware of the employment contract," he added.
The government's 2007 policy for "sending domestic workers to Saudi Arabia and other countries in the Middle East" states that the agency must provide workers with a copy of the "recruitment contract", including the translation in Bengali, before the migration.
An employment contract between the recruited worker and the employer will stipulate the worker's salary, accommodation facilities, duration of employment, amount of compensation in case of death or injury, emigration costs to and from the foreign country, etc. Overseas Migrants and Employment Act 2013.
The recruitment agent will be deemed to be a representative of the foreign employer, he said.
The agencies are following the government's 2007 policy, said Shameem Ahmed Chowdhury Noman, former secretary general of the Bangladesh Association of International Recruitment Agencies.
"There is no reason why migrant workers should not receive the hard copy of their contracts since it is part of the recruitment system. A worker cannot migrate without a contract of employment."
However, if a recruitment agency does not provide a written employment contract, the migrant worker should demand one, he added.