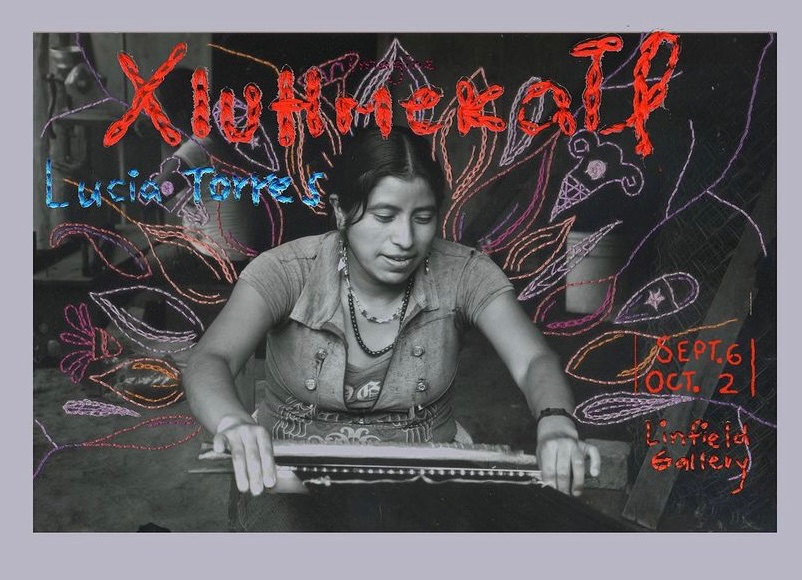 Art all the way from Mexico – The Linfield Review
"If a man sees you and recognizes you, suddenly you're good, you're pretty." But, in reality, they see you like that because you are that, "said Lucia Torres," it creates friction in women when we compete for validation from men. "
Torres is a multimedia artist and musician visiting the Miller Gallery in Linfield whose art will be on display until October 2. Torres' exhibition is titled Xiuhmekatl which means "communities interconnected by a thread" and features many styles of art including embroidery, textiles, music and dance. Torres is from Mexico City visiting with his group, Semilla, which means "seed".
As a young girl, Torres danced the traditional Mexican dance called Folklorico. She was first inspired to become a musician after being invited to a college party by her now bandmate, Sergio, where she heard fandango for the first time. She describes the experience as a life changing.
"Sergio and the band invited me to a party and I was wearing my shoes on, so I started zapater (stomping) there," Torres said, "I went to rehearse with the band on Friday, then I didn't never left, I became a member of the group.
After finding his passion, Torres traveled to Veracruz, Mexico, where the fandango originated. Torres said she felt she had to go to Veracruz to fully experience fandango and music. Torres wanted to break down gender roles and experience all elements of fandango, even though in Mexican culture only men play music.
In Veracruz, Torres found herself in love with the fandango culture and community. She ended up learning all the parts of fandango. Fandango is a party where people come together to dance, sing, play and connect with the community. The music played at the Fandango is Son Jarocho which is played on the Jarana Jarocha, which is a guitar-like string instrument from Mexico.
The main instrument of the fandango is a Tarima, which is a wooden platform on which the dancers perform the Zapateado. The Zapateado is a lively dance for two people performed on the Tarima, which keeps the beat for the musicians. Torres noted that the tarima is the main instrument of the fandango because the music follows the steps of the dancers.
Torres is not only a talented musician, she also excels in multimedia art. Torres' main medium is textiles, which she creates in community with other women, who also work on their own textile items. Torres emphasizes how being in community with women while creating is an essential part of her work.
The medium that we will see in the exhibition at the Linfield Miller Gallery is mainly embroidery. Torres took inspiration from the women in the community she makes textiles with and decided to embroider on photos she took for the exhibit.
Torres creates art that makes sense. Each piece examines the community of Mexico. One of the meanings seen in some of her pieces in the exhibition is femicide, which is homicide, especially of women killed because of gender-based violence. Feminicide is a common problem in Mexico, which is part of why Torres was inspired.
Torres created the play "No podrán detener la primera violeta"which translates to" You can't stop the purple spring. "In Mexico, the color purple represents feminism and the empowerment of women. Violet is part of the" purple revolution "which is a movement of women in Mexico taking back all their power.
Inspired by this piece, she created crochet flowers with other women in the community. She placed the flowers on a bridge in Mexico where many women were assaulted or felt unsafe to empower these women.
Most of Torres' inspiration for his artwork comes from his community and his friends.
"It was through the eyes of friends that I was able to see myself as an artist," Torres said.
Torres' exhibition was supposed to take place last year in Linfield, but due to COVID-19 the exhibition has been postponed to this year. She has never shown up to college before and is very excited to show Linfield. Torres found it difficult to start organizing the show and struggled with it, but Torres felt sharing the art was a healing.
Torres mentioned that Mexican artists struggle to find stable employment. Especially with the pandemic, many people in Mexico are out of work. Torres was delighted that this exhibition opened more doors for her as an artist as it was her first solo exhibition.
For future artists, Torres gives a strong piece of advice: "bring your own experiences and even if others tell you how to do a certain thing, you will do it however you want".
"Life always brings me back to art. Torres said.
Torres finds that no matter where she is in her life, art is always cohesive, even when times are tough.
"The work of an artist is difficult and there will be difficult times, but in the end the reward is on the other side," said Torres, "sometimes the reward comes with personal growth, which is reflected in outside. "
In my experience, I sometimes tried to be someone I'm not, and I just went around in circles, but in the end I blossomed into who I am meant to be. Torres said.
"So if you feel that in yourself, if you feel that spark of who you are and where you want to take your art work, then be true to how you feel. If you have to give it multiple tricks, that's part of becoming who you are.
The display will be in the Linfield Miller Gallery of the Miller Art Building until October 2.