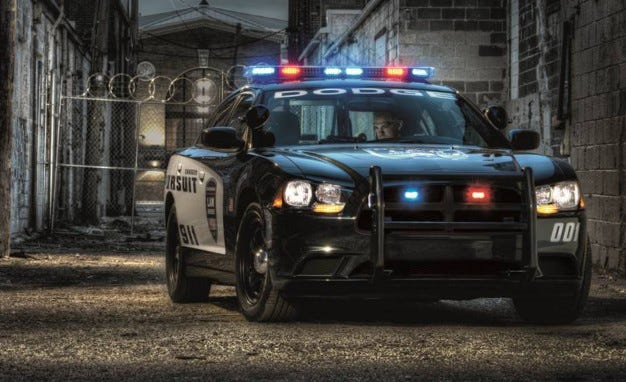 Dodge adds AWD option to 2014 Charger Pursuit police cars
As mean as Dodge Charger Pursuit Police Car look, the rear-drive cop car, ahem, pursuit skills potentially face limitations in inclement weather – until now. Dodge introduces optional all-wheel drive for Cops Chargers for 2014; the new drivetrain configuration will only be available on Charger Pursuit models equipped with the 5.7-liter, 370-hp Hemi V8.
The police Charger's all-wheel-drive system is shared with civilian versions of the Charger and Chrysler's 300 sedan. That means it features the same front axle disconnect configuration as those pedestrian sedans, which automatically decouples the front wheels from the drivetrain when not needed, helping with fuel economy. Fleet customers will still be able to order the rear-wheel-drive Charger Pursuit V-8, in addition to the rear-wheel-drive V-6 model.
Chrysler hasn't revealed what kind of fuel economy to expect from the Charger Pursuit AWD, but civilian Chargers with V-8s powering all four wheels are rated at 15 mpg in the city and 23 on the highway. Those numbers represent a decrease of 1 mpg in the city and 2 mpg on the highway over the rear-drive Charger Pursuit. We suspect (police pun!) the all-wheel-drive Pursuit will offer very similar numbers to the civilian version.
---
---
It's not really a mystery why Dodge decided to add the four-wheel-drive option to the Police Charger's order sheet…Ford's Police Interceptor Sedan offers all-wheel drive as standard. The incorporation of all-wheel drive into the Dodge Charger leaves Chevrolet Caprice PPV as the only alternative to police cars for not offering all-wheel drive.