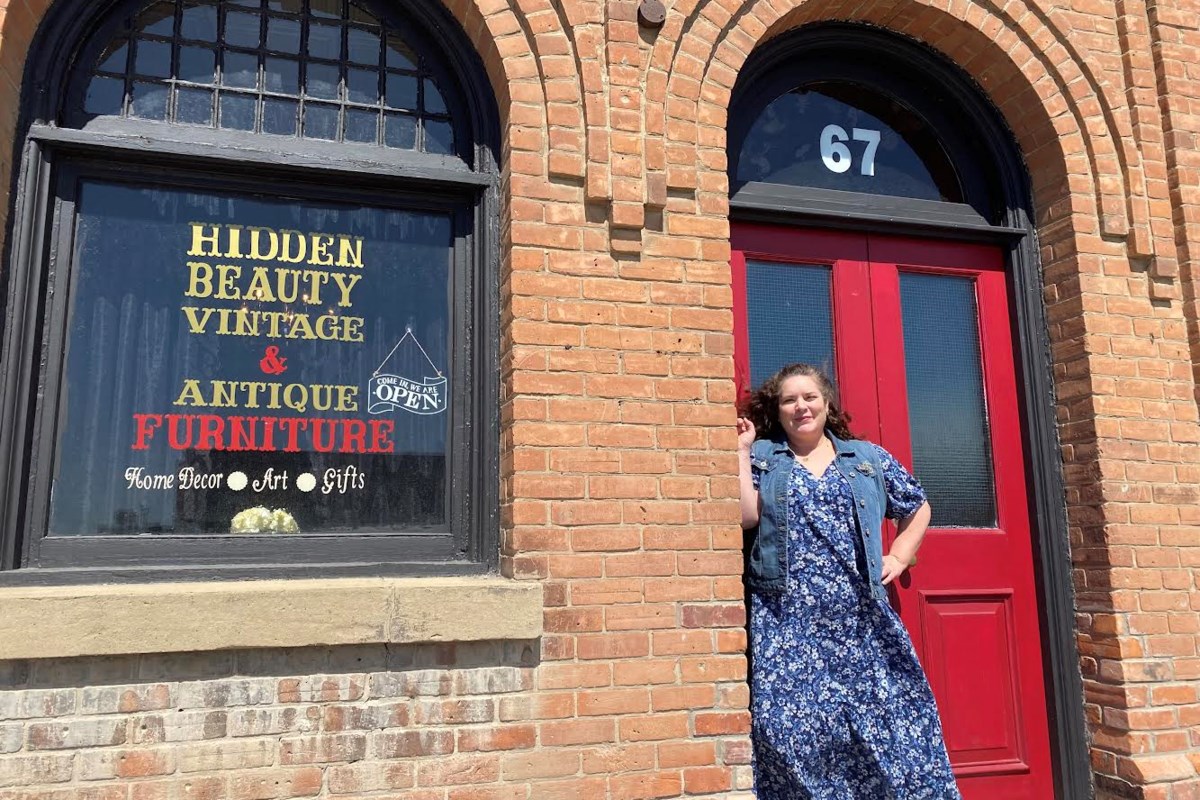 Historic Bradford building restored to antique furniture store (16 photos)
"It's a piece of Bradford history. … I spent weeks and weeks tarring the floor, sanding, hand staining," the shop owner says
Hidden Beauty Vintage, an antique furniture and home decor shop, opened in Bradford town center last week.
After spending all winter renovating the space at 67 Holland St. W., store owner Lorraine Schmidt says she's thrilled to finally have her doors open to the public.
It will be five years this summer since Schmidt started his business, Hidden Beauty Vintage, restoring antique furniture in his garage. She's always dreamed of having her own storefront, so when she saw the building for rent last fall, she knew it was meant to be.
Always a fan of antiquity, she was drawn to the historic building, its character and the story behind it.
"I have always had a special place in my heart for this building," she said, noting that it is one of the last original buildings on the street, due to the massive fire which swept away most of the properties in 1871. "These are the last of our Victorian houses."
The Holland Street West property was built in the Romanesque Revival style around 1860 to 1900 and housed the Standard Bank.
"It's a piece of Bradford history," she said.
Hanging at the entrance to the store, Schmidt pays homage to the building's history with a photo of 1918 bank staff standing inside the building. Inscribed on one of the bricks outside the building is the date May 25, 1937, the day the bank moved to the street as CIBC.
Since November, Schmidt has worked day and night, renovating the interior, tearing down walls, tearing up floors and painting to prepare the store for customers. She said it was the change she needed to propel her finishing business.
"I spent weeks and weeks removing tar from the floor, sanding, staining," she explained. "It was so much work, but I'm so happy about it. It was a labor of love for sure."
Schmidt plans to use the store to showcase and sell his refinished pieces. In addition to restored furniture, Schmidt sells vintage and antique decor items as well as handmade products and accessories from other local business owners.
"I wanted to create a welcoming atmosphere for people to come and shop and just visit," she said.
She has always appreciated antique furniture and their know-how.
"You know it's going to be a quality piece with its own little quirks…they all have their own little stories to tell," she said.
Schmidt acquires his pieces through estate sales and online buy-and-sell groups. With inflation, job losses and supply chain shortages caused by the COVID-19 pandemic, Schmidt believes people's shopping habits have changed and there is more desire to buy local and used.
"You have to think of other ways to be creative," she said. "People tend to appreciate older furniture, it lasts longer, it makes a statement, it's one of a kind."
Schmidt lives in Bradford and grew up in Quebec on a farm with his parents, sister and two brothers and had a modest and humble upbringing. Schmidt says his parents were resourceful and didn't like to see things go to waste. It was her father who taught her how to use tools and repair things around the house, including furniture.
Hidden Beauty Vintage is open Wednesday to Sunday from 12 p.m. to 5 p.m.
Check out their website here or follow their Instagram page @hiddenbeautyvintage.