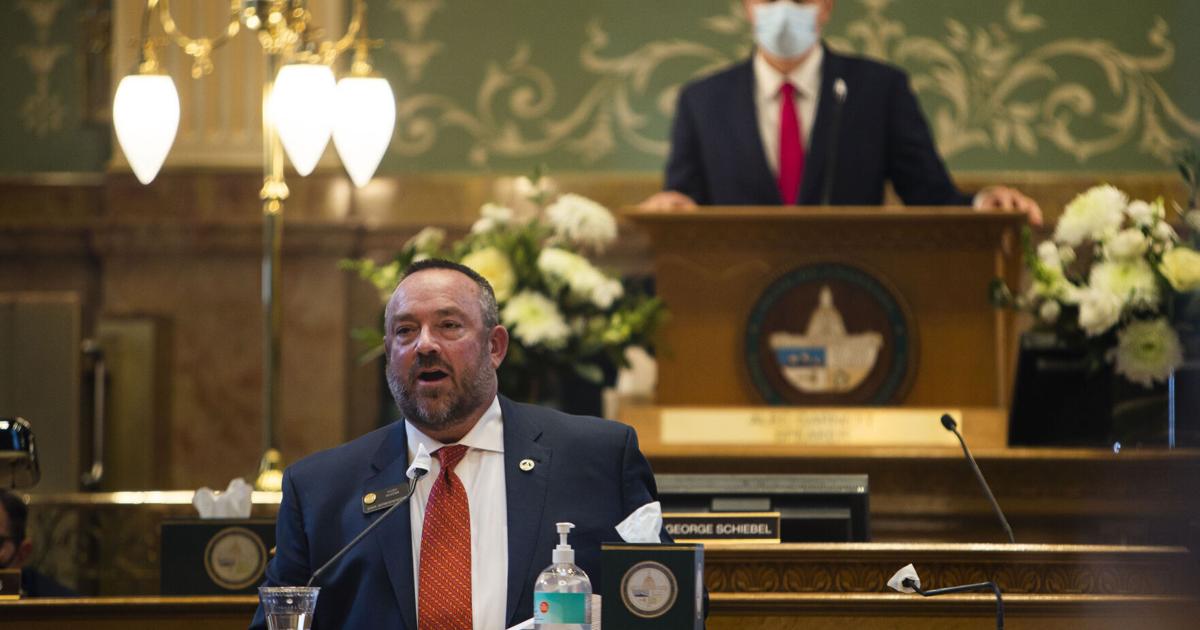 House Minority Leader Hugh McKean has died | Denver Gazette
House Minority Leader Hugh McKean of Loveland, who turned 55 three days ago, died early Sunday at his home, according to a statement from the House GOP office.
McKean was seeking his fourth term in the House.
Funeral services are being planned and details will be released once finalized by the family.
"Hugh was fiercely passionate about two things in his extraordinary life; serving the great state of Colorado and spending time with his family, whom he adored – Aiden McKean, 21, Hanna McKean, 23, and his dearest partner and friend Amy Parks," according to the statement.
"Hugh spoke of the Coloradans not in the abstract, but as real, living people with jobs and loves and successes and real problems. Families facing hardship were not faceless pie charts on a page for Hugh.He saw the faces of his own children, of his parents, longtime neighbors, and of Coloradans whom he would always call friends.
Civil service was not a 9-to-5 job for Hugh; he lived his life believing that good enough would never be enough for those who would live with the consequences of bad government."
McKean began his public service in 2009 when he was elected to Loveland City Council. He was later elected to represent Colorado House District 51 in 2016. McKean "was elected leader of the Colorado House Republican Caucus in 2020 and propelled it to legislative and electoral successes during a period of political transformation. recent history of the organization," the statement read. .
An autopsy is underway, according to the House GOP, which should shed light on the cause of death. Sources said McKean was complaining of chest pains on Saturday and called a friend late Saturday night, but by the time she got to his house he was gone.
Colorado GOP Chairwoman Kristi Burton Brown said in a statement "Dave and I are deeply saddened to learn of the sudden passing of Leader Hugh McKean. Hugh was a friend, a Republican leader and a good man who worked for a better life for families across Colorado.
"Every time I saw him or spoke to him he had a word of encouragement and was ready to uplift others. Whenever I think of Hugh McKean, I think of his smile and his positive outlook on life. One of the best memories I have of him was when I visited his office on Capitol Hill with my kids. In the middle of a busy legislative session, he still took the time to show his office to my children, to explain his science exhibits to them, and to invest – even for a few minutes – in their lives. He was the Hugh McKean behind the political scene – a man who loved others and was happy to invest in them.
"I will miss my friend and my family will pray for his loved ones."
House Speaker Alec Garnett said in a statement: "Emily and I are shocked and heartbroken by the passing of Minority Leader Hugh McKean. His kindness, the joy he brought to the Capital every day and the care that he showed to everyone he ever met. Hugh was the very definition of a statesman — a really nice guy who always wanted the best for our state and his constituents. His integrity and the deep respect with which he treated every member of the House was a model for every legislator he worked with. The thoughts and prayers of the entire Democratic caucus are with Chief McKean's family and loved ones.
Majority Leader Daneya Esgar, D-Pueblo, added "Heather and I join our entire caucus and all Coloradans in mourning the sudden passing of my friend and colleague, Chief McKean. Hugh worked tirelessly on behalf of his constituents and cared deeply about our state and our In our roles as Majority and Minority Leader, we worked closely together every day, with a shared commitment to doing the people's job. My thoughts and prayers are with his family, loved ones and the House Republican Caucus.
GOP Senate Minority Leader John Cooke, R-Greeley, said: 'We are deeply saddened to learn of the passing of Rep. Hugh McKean. Hugh was a leader, a friend and a good man. never engaged in personal politics, but always greeted everyone with a warm smile and an open hand. With his sincere nature and honest approach, he taught everyone what it means to be a statesman. His passion for his family, his community and the State of Colorado was exemplary. We pray for his family and offer them our deepest condolences and all the support we can give. Hugh McKean will be sorely missed.
Senate Speaker Steve Fenberg, D-Boulder and Senate Majority Leader Dominick Moreno, D-Commerce City, said in a statement "we are shocked and deeply saddened by the sudden passing of Minority Leader McKean, who was an incredibly kind man, a loving father, and a dedicated public servant. He had a big heart and effortlessly used humor to break down barriers in an effort to advance constructive problem solving. Hugh led his caucus with courage and conviction, and was a steadfast advocate for what he believed in. He was a strong advocate for children with disabilities, and his work to engage Colorado's youth in the political process will continue to serve as an example to us all. We are grateful for Minority Leader McKean's service and friendship. The State of Colorado is a better because of Hugh, and we are lucky to have had him in our lives. We will keep all of his family in our thoughts.
Governor Jared Polis added "I am devastated to hear of the sudden passing of Minority Leader Hugh McKean. A family man and true public servant, Minority Leader McKean had a knack for making everyone feel like the most important person in the room. Minority Leader McKean cared deeply about his constituents, always had time for a chat or a laugh, and truly worked every day to build a better future for every Coloradan. As a father myself, I don't can't imagine the pain his children and family are feeling at this difficult time. We send thoughts and prayers to all of Hugh's loved ones and are comforted to know that his legacy will be felt in Colorado for years to come. ."
McKean was an entrepreneur in Loveland, starting in 1994. He was a graduate of Colorado State University.
He was chosen as Minority Leader two years ago after the 2020 election, when Republicans were at a 41-24 disadvantage. His tenure as Minority Leader has not always been easy, often battling with the right wing of his caucus.
He was attacked from this wing earlier this year, with a main challenge from former communications director Austin Hein, who served under McKean's predecessor, Rep. Patrick Neville, R-Castle Rock. However, McKean easily won the June primary and was due to win his fourth term on November 8.
Among his talents: making chili, winning the House chili contest two years in a row.
McKean was a Quaker and that often set the tone for how he conducted caucus business, refusing to publicly chastise lawmakers who misbehaved.
McKean focused on small business and water. He co-sponsored House Bill 1248 in 2017, which made $90 million in loans available for Chimney Hollow Reservoir, part of the Windy Gap Firming Project, a diversion of the Colorado River near Granby, to help supply Boulder. , Estes Park, Fort Collins. , Greeley, Longmont and Loveland.
"I'm literally devastated," said Fort Collins Mayor Jeni James Arndt, a Democrat who served in the House.
"We sat side by side on the Republican side of the House" at his request. "I picked up my things and moved on, despite some backlash from his caucus chair, but Arndt was firm.
"We spoke every week," even after his election as mayor. "I loved Hugh McKean."
Arndt recalled the debate and the final vote on the repeal of the death penalty. "We were opposite on this issue. When it came time to vote, we didn't look at each other. We didn't want it to be personal. We weren't going to let even an emotional and controversial vote get in the way of this. ." After it was over, "we tied hands" and walked out of a works council meeting.
"It's a big loss for Colorado."
Rep. Chris Kennedy, D-Lakewood, noted in a tweet Sunday that McKean has a "special place in his heart" for children with special needs.
Hugh was a good, kind and loving man. He was very kind in his interactions with others, including those of us across the aisle. He had a special place in his heart for children with special needs and always sent kind words to others when they were having a hard time.

— Rep. Chris Kennedy (@Kennedy4CO) October 30, 2022
It was personal.
McKean often said that his best friend was a young man named Kolton, who visited him at the State Capitol.
This is breaking news and will be updated.