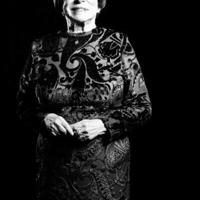 Mark Bennett: Diminutive Myra Janco Daniels stood tall in business | News columns
Imagine a 24-year-old woman starting an advertising agency in downtown Terre Haute that quickly grew into a million-dollar-a-year business.
Now imagine this happening in 1949.
Myra Janco Daniels did it. And she did it while studying at Indiana State Teachers College and working nights at Meis Department Store.
These years marked the early stages of a career that saw Daniels become a national force in advertising; transform Naples, Florida into a thriving and elite arts community; and raise significant funds for philanthropic projects. In 1967, she married an equally influential advertising executive – Draper Daniels.
He created the iconic Marlboro Man, Jolly Green Giant and All-State "You're in Good Hands" advertising campaigns and partially inspired the lead character of Don Draper in the 1950s television series "Mad Men," which aired on AMC from 2007. to 2015.
Draper Daniels met Myra in Chicago in 1965, bought the ad agency she was executive vice president for, and asked her to stay on as president, impressed with her style. Myra became the only woman to hold such a position at a major national ad agency, according to her personal website. Draper served as the agency's creative director. Myra took care of its marketing. Their business flourished, managing accounts for Colgate-Palmolive, Maytag, and other popular brands.
His accomplishments continued long after his death from cancer in 1983 following their move to Florida.
"She was pretty remarkable," said Bernie Carney, a 92-year-old retired businessman who was a student in the college courses Daniels taught at Indiana State.
Other friends said the same about Daniels, who died June 22, just four days shy of her 97th birthday.
"She was a very small, tiny woman – less than 5 feet – but her stature was so enormous," longtime friend and businesswoman Ursula Pfahl said from Naples on Tuesday. "There was this tiny little person who accomplished huge things."
Daniels started out humbly but impressively. She was born and raised in Gary during the Great Depression. At the age of 4, Myra was asked by her grandmother: "What do you want to be when you grow up?" »
"In charge," the little girl replied, according to Pfahl, who had heard Daniels tell the story.
Terre Haute was the first place where she achieved this goal.
She chose to attend Indiana State, rather than the University of Chicago and Northwestern, after Indiana State President Ralph Tirey met her at the bus station local for a visit to campus and took her to lunch, hoping that Daniels would join the Sycamores' debate team. Daniels did more than that.
Needing a place to stay, Daniels accepted an offer to live with retired New Goshen teacher Goldie Hiatt, agreeing to clean and type in exchange for rent. "The only problem was that Myra had never done laundry," Pfahl explained.
So she took Hiatt's laundry to a local laundromat and brought it home. Impressed with the result, Hiatt also asked to do laundry for a friend. "Myra realized she had to confess," Pfahl said.
The two women became friends, and Daniels ended up caring for Hiatt in Chicago during the woman's final years.
While just a freshman at Indiana State, Daniels served as editor of The Statesman, the campus newspaper. She quickly sought a job at the Terre Haute Tribune newspaper, but its editor refused to hire a young student, whom he called a "paper doll". So Daniels walked down Wabash Avenue to the Meis department store and immediately landed an advertising job.
A few years later, she withdrew $200 from her savings account and started her own advertising agency, Wabash Advertising at 522 Ohio St. In the first year, she had 10 employees and $1 million in bills. . Daniels was still attending Indiana State.
"I mean, she was busy," Bernie Carney recalled. Daniels has also taught marketing classes at Indiana State and Indiana University, adding a master's degree.
Daniels often spoke of her Terre Haute years, said her friend Laney Meis, whose late husband Lucien served as president of Meis stores and was a junior employee at the store when Daniels worked there.
Daniels could be demanding, Laney Meis said, but only because she "wanted everything to be on top."
His passing, Meis added, "is like the end of an era."
Once Daniels and her late husband moved to Florida after her retirement, she directed her energies toward developing arts and philanthropic endeavors. She helped bring "top-notch" community assets to Naples, on Florida's southern Gulf Coast. His most notable creation was the Philharmonic Center for the Arts – now known as Artis-Naples – in this affluent city of 21,750. More than a music center, "the Phil" is also a hub of cultural learning experiences for children and adults. Daniels also led a fundraising effort to develop a symphony orchestra on Marco Island, Daniels' original Florida residence, which later became the Naples Philharmonic Orchestra.
These strengths helped Naples be named "America's Best Small Art Town" in the 2005 book "America's 100 Best Art Towns" by John Villani.
"She put this city on the map," Naples resident and ISU graduate Norm Winski said by phone Tuesday.
Clearly, Daniels has refuted the "paper doll" label placed on her decades ago in Terre Haute, multiple times. Her contrasting early encounters with Indiana State College President Draper Daniels and Goldie Hiatt also reflect the legacy of Myra Janco Daniels.
"None of us should underestimate the impact we have on people, especially young people," Pfahl said. "Because those impressions we have can last a lifetime. And those were clearly her impressions of Terre Haute, and she talked about them often.
Mark Bennett can be reached at 812-231-4377 or [email protected]