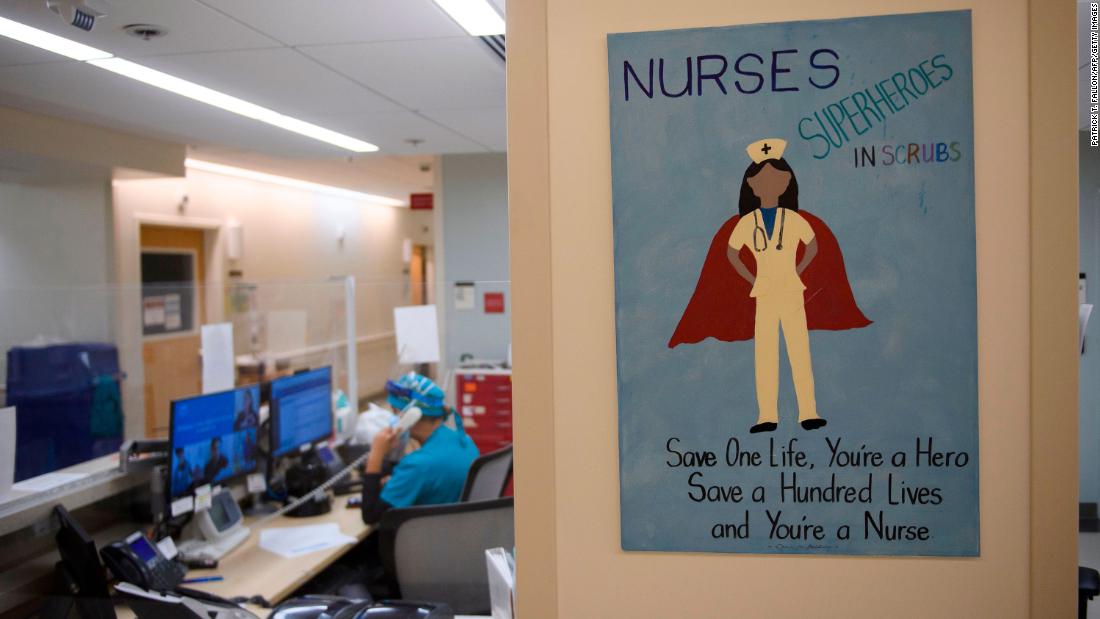 Opinion: If nurses are heroes, your heroes are in crisis
I know it first hand. I am a family nurse practitioner as well as a researcher. Over the past few months, as Omicron cases have increased, my colleagues and I have been pushed to our limits.
I see patients of all ages and backgrounds, many of whom don't have a primary care provider. I help them deal with multiple aspects of Covid – screening, vaccination, treatment – in addition to filling those gaps in primary care. Right now, there are no quick and easy medical visits, and there are not enough nurses to meet the needs. It has been heartbreaking to turn away patients due to the lack of available appointments.
But for many patients I treat, the reality of the pandemic today may seem better than it did in 2020. We have vaccines and boosters, better treatment plans, and a much more plentiful supply of masks and other personal protective equipment (PPE) . Much of the public, for better or worse, has found a balance in life while trying to mitigate the risk of contagion.
Inside the hospitals and clinics where I work, however, the reality is quite different. For nurses, 2022 can often seem much darker than what we experienced at the start of the pandemic. We have vaccines and more PPE now, yes, but being on the front lines of waves of infections has carried an extreme physical and emotional burden that leads to immense burnout.
Sometimes I received requests to take extra extra shifts or to "donate" my time at a local hospital when other nurses were away. When I receive these requests, I feel much worse apprehension than I felt that day in early April 2020 when an emergency alert popped up on my iPhone, "Attention all healthcare workers: the New York City is looking for licensed health care workers to support health care facilities in need." When I read those words, I knew we were in crisis. What I didn't know was is how much our workforce would suffer.
While my colleagues and I do our best to care for patients despite our own exhaustion, there are still patients filling waiting rooms who have not been vaccinated or who have not taken preventative measures like wearing masks to protect themselves and help curb the influx of new Covid-19 hospitalizations. And while parts of the public may choose to "get over" the pandemic, or live as if it doesn't exist, for healthcare workers like me, there has been no escape.
So now when I get a request for overtime due to a shortage of staff, I face a dilemma: take on the job and add to my already considerable burnout or refuse it and know that the patients and nurses stretched the staff will suffer. Many times I choose to take on the job.
My friends and colleagues in the nursing profession have said they face the same tug of war between taking care of themselves and taking care of others. "If I don't show up, who will? We don't have enough nurses to care for our patients safely," a colleague told me. Our burnout is caused by a systemic mess that we did not create but are forced to tackle daily.
Nurses have long been advocates for our patients, and now we need patients and employers to value our lives and our work and advocate for us. Let's all show compassion and patience, not just to our nurses and healthcare workers, but to each other. At this rate, our workforce will continue to crumble unless bold changes are made.