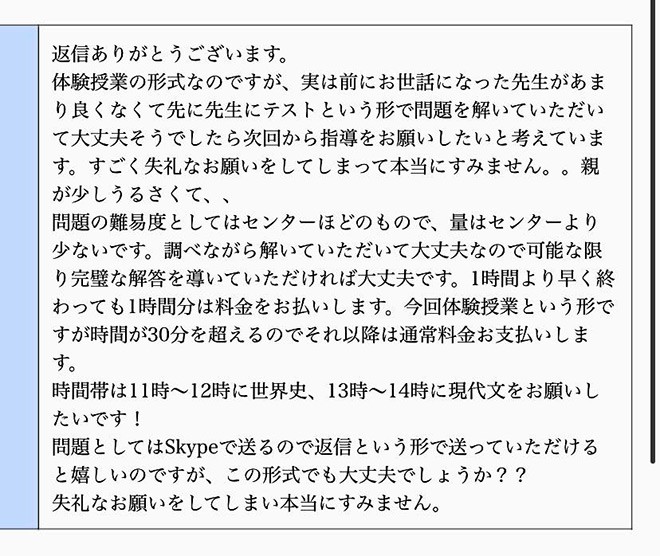 Police: A student hid his phone in his sleeve to cheat on the entrance exam
A 19-year-old university student said she used a tutor-matching website and a hidden smartphone to cheat on an exam in an attempt to get into a more prestigious school, police said.
The student, who attends a university in Osaka prefecture, reported to Marugame police station in Kagawa prefecture with her mother and grandmother on January 27.
"I realized I had done something serious after seeing the reports (about cheating)," the student said, citing police.
Reports had spread of the apparent cheating on January 15, the first day of a unified university entrance exam. Images of questions in the "History of World B" topic were leaked to outsiders during the test, following previous requests for help answering them.
According to law enforcement sources, the student admitted to leaking the questions while taking the exam at a university in Osaka Prefecture.
"I photographed the questions with a smartphone that I had hidden under the sleeve of my outerwear and sent the photos (outside people). I'm so sorry," they quoted.
She said she turned herself in to Kagawa Prefecture police because she was not known there and wanted to avoid drawing attention to the cheating scandal, the authorities said. sources.
As for the reason for her cheating, she said, "I tried to get into other universities, but my grades didn't go up."
She also said she signed up on the tutor-matching website in December last year "for the purpose of cheating", the sources said.
Images of the questions were sent to other university students who registered as potential tutors on the website.
About 30 photos were received by two students from the University of Tokyo via the Skype communication application during the exam on January 15.
They had exchanged messages before the exam with a person who identified herself as "a student preparing to take a college entrance exam" through the tutor matching website, according to a law enforcement source.
The student asked them to solve questions that she would send them "to test your tutoring skills".
Police believe at least two other students were asked to answer exam questions in the same way.
The Tokyo Metropolitan Police Department is expected to question the 19-year-old on suspicion of fraudulent obstruction of business.
The National University Entrance Examination Center, which administers the Unified University Entrance Examination, had asked Tokyo police to investigate the incident.