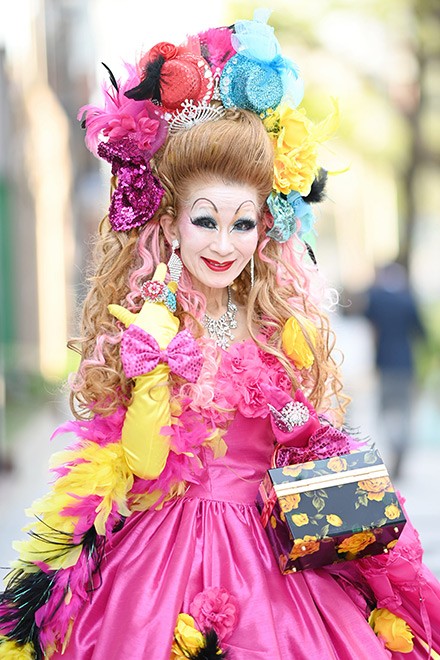 'Shinsaibashi's Cinderella' still dresses for prom at 73
OSAKA – Akiko Matsumoto spends four hours a day doing her face makeup, putting on a pink dress and accessorizing her hair with bling.
It takes time for the 73-year-old to perfect her trademark appearance, as if she were dressing for the ball.
Indeed, Matsumoto introduces herself as "the Cinderella princess of Shinsaibashi", referring to Osaka's iconic entertainment district.
She describes her makeup style as "happy from age to age", something that ignites people and puts them at peace.
One of the is in his seventies The signature makeup techniques curve her eyebrow wide, which she calls "Happy eyebrow, Mayu-chan."
"My makeup brings happiness to me and to the people around me," she said.
Once ready, she'll report for work at Bridal Saloon Rouage, a wedding dress rental business in the city's Chuo district, a five-minute walk from Shinsaibashi Station.
Matsumoto has run the company since 1987.
LIFE BEFORE 'AGE-AGE HAPPY'
Matsumoto started her career as a fashion designer. After graduating from a middle school in Yamaguchi Prefecture, she joined a clothing company in Osaka.
It was quite easy to create a product that sold very well, she recalls.
There was no internet yet. So the president of the company would go to the United States and bring back t-shirts and jeans, and Matsumoto would recreate those American products.
But such work never satisfied her.
"It's not fun at all unless you're doing different things than other people," she said.
Since it was easy to produce a product that sold very well, she had the idea of ​​selling her creations and ideas to competing companies.
"What I did was what is now called consulting work, but nobody was doing anything like that at the time," she said.
She suggested the plan to the president of the company, who agreed to her idea.
Matsumoto quickly closed over 10 deals on her own.
She enjoyed a steady flow of business. But she left the company after her marriage and childbirth.
"The truth is that I wanted to continue working. But at that time, women were supposed to take care of the household after having a child. It was really frustrating.
Later she divorced.
While raising a child, Matsumoto worked four jobs, designing dresses and teaching at a technical school.
"NICE BUT EXPENSIVE"
A major turning point came when she planned a wedding dress salon as a designer.
Japan was at the peak of its asset-bloated economic growth in the late 1980s. It was not uncommon for couples to splurge for a flashy wedding ceremony and spend several million yen on a wedding dress.
But Matsumoto noted at the show that women looking for wedding dresses mumble, "It's so pretty but expensive.
Matsumoto realized that there were women who wanted to wear a dress but couldn't because of the high price.
"If I offer such a dress at a low price, I can please everyone," she thought.
She knew how to do it.
In the fashion industry at the time, much of the unsold clothing was destroyed at the end of each season.
Using his own network of connections, Matsumoto thought of a business of snatching up such dresses at bargain prices and renting them out to women.
GOOD FOR BUSINESS APPEARANCE
Thirty-five years ago, she opened Bridal Saloon Rouage.
She bought dresses and added her own design, decorating them with flowers and ribbons.
Rental prices ranged from 20,000 yen ($156) to 50,000 yen.
"The market rate for a rental (wedding dress) at the time was 500,000 yen to 800,000 yen, so (my company) was overwhelmed with orders," she recalls.
She has hired up to 15 employees, and her company's annual sales have exceeded 100 million yen.
From the start of Rouage's launch, Matsumoto started wearing a lot of makeup and a flamboyant dress.
The fact that she entered a heavy makeup contest organized by a TV station in Osaka and won second place gave her confidence and motivation, she said.
"Being an attention grabber is best for business, and I've found that makeup also boosts my confidence," she said.
The wedding industry has changed over time and is facing a headwind.
These days it's common for wedding venues to charge couples if they bring their own dresses to wear to a ceremony and his company has lost its price advantage.
Moreover, a no-frills wedding has become a trend and more and more couples are deciding not to have a wedding ceremony.
The number of employees at Rouage fell to three.
Matsumoto sometimes feels uncertain about the future. But she said she would keep moving forward without changing her style.
Recently, she has appeared more and more on television shows and has been more actively engaged in social media. This brought more young clients to Rouage.
"Women should act much taller and more powerful," Matsumoto said. "It doesn't matter what people say. Do what you want, and perform a miracle with happy age-age.
That's the advice she gives women, a mantra she hasn't changed in 35 years.
It seems to have worked for one of his employees, Erika, who is 28 years old.
She joined the Rouage team after seeing Matsumoto on TV and is expected to get married in the fall.
"I've been happy ever since I met my princess," Erika said.