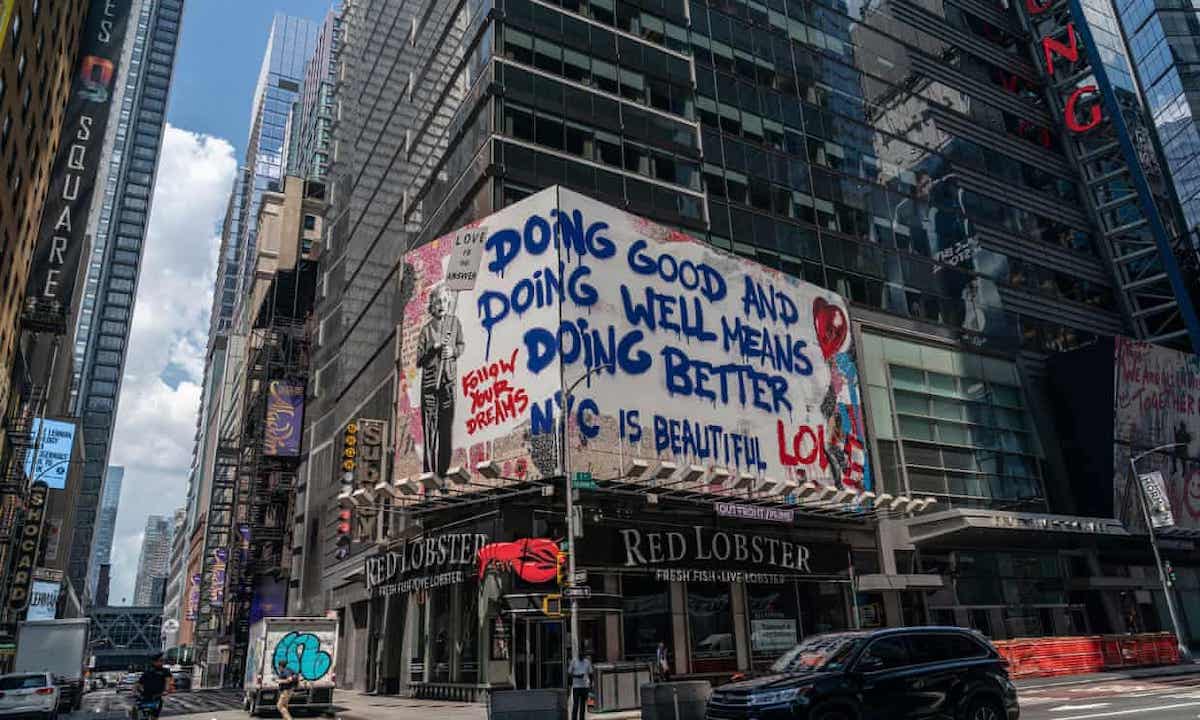 Times Square has become a hotbed for resistance art and other news – SURFACE
The Design Dispatch offers essential, expert-written news from the design world, curated by our dedicated team. Think of it as your cheat sheet for the day in the design delivered to your inbox before you've had your coffee. Subscribe now.
COVID-19 has transformed Times Square from a tourist hellscape into a bastion of resistance art.
Since the coronavirus pandemic turned Times Square into a dystopian landscape in March, an unlikely development has taken place: empty streets have turned into a protest art home. From Brooklyn artist Don Perlis' billboard painting of George Floyd to the 'Juneteenth Jubilee' summer event to the Lincoln Project's viral digital billboards lambasting Jared Kushner and Ivanka Trump, it was a pleasant surprise for the local artistic community. "It lacks the same history of worker organizing spaces like Union Square, but with the spread of digital graphics and art during the Covid-19 pandemic and Black-led uprisings, Times Square has makes a unique site of protest in a city with more empty space and a continuous flow of creative mobilizations," says Sarah J Seidman, curator at the Museum of the City of New York.
New Jersey voters pass a new tax to help fund the cash-strapped cultural sector.
As the biting presidential election still looms on the horizon, smaller victories are being celebrated elsewhere. One such example is Jersey City, NJ, which recently passed a tax to help fund the struggling arts sector. While Mayor Stefen Fulop was unsure whether the ballot measure would win public approval given the devastating financial toll of the pandemic, local arts administrators were adamant that residents would not see a inconvenience to being charged half a penny per $100 of estimated land value for contributing to the cultural crisis. organizations. Although this rate is only expected to generate between $1 and $2 million per year and be distributed to organizations chosen by a committee, the victory may signal something much more important: arts and culture are drivers economics that people really appreciate.
A designer reinvents the US electoral map to accurately represent red and blue voters.
Angered by a ubiquitous and misleading political map of the United States, posted on Twitter by Lara Trump showing the country awash in Republican red, Belgian designer Karim Douïeb decided to solve the problem once and for all. He created an animation that represents red and blue votes as proportional circles instead of Electoral College results that make it look like thousands of miles of empty land voted for Trump. The result: a polka-dot card with more clusters of blue than red that went viral after Douïeb replied to Lara Trump's message with it. "Other attempts have been [made to] represent each vote as a point," says Douïeb. "But the key here was to start from the original map and transition. It's like a counter-argument, where you start with the opponent's argument and attack them immediately. But then you keep the context of what it was initially.
Urban planner and architecture critic Nikil Saval is elected to the Pennsylvania Senate.
Nikil Saval, urban planner, architecture critic and community organizer, has won the election to represent Pennsylvania's First Senate District, ending Senator Larry Farnese Jr.'s 12-year career and becoming the first Asian American to be elected to the state Senate. That's no small feat considering his progressive platform of backing a Green New Deal, a commitment to build one million affordable housing units and a plan to modernize the state's crumbling public schools. . After to spill Farnese last June in the Democratic primary, Saval ran unopposed in the general election.
France votes to return 27 colonial-era artifacts to Benin and Senegal within a year.
On Wednesday, France voted unanimously to approve a bill that restore 27 artifacts from the colonial era in museums in Benin and Senegal in one year. The bill cites items stolen in 1892 from Benin by French troops which are currently in the possession of the Musée du Quai Branly-Jacques Chirac in Paris, as well as a sword belonging to a West African military commander which is currently on loan from the Army Museum of France at the Museum of Black Civilizations in Dakar. The vote culminated in a 2018 inquiry, commissioned by French President Emmanuel Macron, which recommended a series of agreements to achieve the large-scale repatriation of African artefacts.